Great LSS Race Shows Continuous Improvement in Action
Is one day enough time to analyze and reimagine a critical department process? That was the challenge faced by competitors at Process Palooza, a first-of-its kind event showcasing how UC San Diego uses Lean Six Sigma (LSS) to be more efficient. 
Attendees convened Nov. 8 on the UC San Diego campus for an action-packed agenda. Those already well versed in LSS spent the day applying their knowledge and tackling a real UC San Diego business challenge. Others attended workshops covering LSS basics and showcasing LSS in action.
Competitors Put LSS Training to the Test
There's nothing like a little friendly competition to spur continuous improvement. During the Great LSS Race, six teams tackled one of two actual campus processes: student employee travel requests, submitted by Associated Students, and new employee commute options, submitted by Transportation Services.   
In addition to the competitive element, the 36 participants (split into six teams) welcomed the opportunity to apply LSS techniques. All had some level of training, from Yellow Belt (introductory) to Green Belt (advanced) to Black Belt (expert).
"I just finished my Green Belt training in April, so it was a great opportunity to apply skills I learned and work with other professionals with LSS experience," said Tehseen Lazzouni, from the Department of Chemistry and Biochemistry.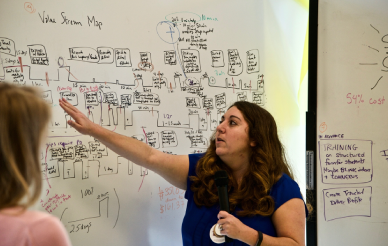 Jenna Lucius, a Yellow Belt from Academic Personnel Services, agreed. "After taking my training, I was looking for exposure to a real-world application, and this event was a good way to accomplish that," she said.    
Don't Trust the Process. Improve It.
Lean Six Sigma is all about improving a process through eliminating waste and gaining efficiencies. Think reducing steps, erasing redundancies, and streamlining operations. As teams analyzed their challenges, they employed the LSS framework of Define, Measure, Analyze, Improve, and Control (DMAIC).
"Following DMAIC helped organize how we approached the task," said Lazzouni. "DMAIC allows you to go through the whole process, understand relationships, inputs and outputs, and work from there to identify improvements." 
Lucius added, "It's tempting to face a problem and start listing off solutions. Using DMAIC provided guidance on what needed to be done. Most importantly, it helped us consider aspects we might not have."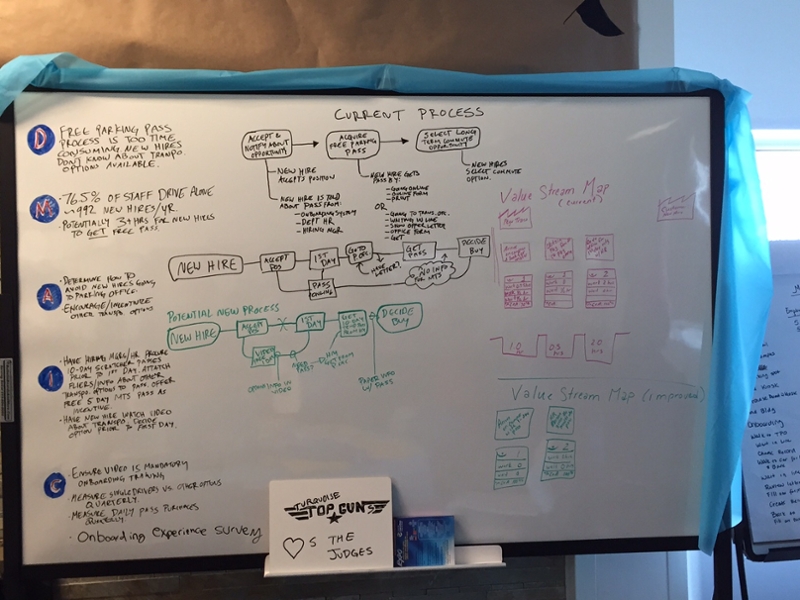 The pace was fast and excitement high, with all six teams sharing the same space in a ballroom. LSS experts and process owners from the respective departments were on hand to answer basic questions. Mostly, though, the teams were on their own as they worked through their challenges, filling whiteboards with fishbone diagrams, swimlane maps and other LSS analysis techniques.
"The competition was very fast paced," commented Lucius. "We split up work based on our strengths, and it was exciting to see everything come together in the end."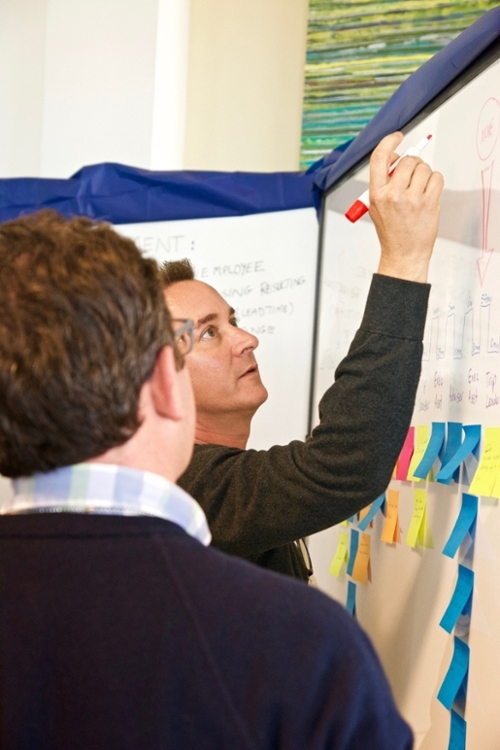 "I loved the energy of the event," added Lazzouni. "Having all the teams share the room made the event so fun."
Winners Named, Lessons Learned, Contacts Made
Teams worked through the morning and into the afternoon, hashing out solutions and eventually presenting their conclusions to a panel of judges. Turquoise Top Guns came out on top for its work on the new employee commute process, while Sunshine Squad won for its work on student travel requests. Winning teams received blue ribbons and other prizes, including VIP lunch with select Vice Chancellors, Lyft gift certificates, and a Google Home. Check out a full list of teams and participants below!
The true reward, shared by all, was a full day spent learning, doing, and connecting. Participants came away enthusiastic about continuous improvement and LSS and how they can continue to grow their skills and apply them to their work.
"Taking part in Process Palooza keeps LSS on the forefront of my mind," said Lucius. "It's a reminder to keep examining the processes I work with daily, and that there might be efficiencies I can add."
Others found value in making contacts with fellow LSS practitioners. "The primary benefit to me was networking," explained Rachael Lapidis, from the Department of Psychology. "I met colleagues from across campus with different skillsets. I think it's really cool that our university has made the commitment to learning these types of skills and connecting people."
Commitment to Continuous Improvement
Process Palooza was co-produced by IT Services and UC San Diego Extension. Lynn Underwood, who planned and led the event for IT Services, said, "Attendees valued both the competition and conference elements. That's critical because it demonstrates that the concept of learning from each other is very much in demand."
Underwood also noted strong attendance from all sectors of campus, and that the 500 participants exceeded the organizers' expectations. 
In the spirit of continuous improvement, Underwood and her team are taking feedback to make next year's event even better. Meanwhile, both Transportation Services and Associated Students are considering the competitors' solutions.
Check out the links below for more information on Process Palooza, LSS at UC San Diego, and how to get involved:
Meet the Competitors
Process #1

UC San Diego's Associated Students (AS) Student Employee Travel Request Process

Process #2

UC San Diego's Transportation Services New Employee Commute Options Process

Winner: Sunshine Squad

Devon Sherwood, Service Desk Analyst, IT Services
Justin Clow, Service Desk Analyst, IT Services
Mark Ortiz, Corporate Responsibility Program Manager, Integrated Procure-to-Pay Solutions (IPPS)
Paula Maguina, Sponsored Projects Office, Medicine
Rachael Lapidis, Student Affairs Manager, Psychology 

Winner: Turquoise Top Guns

Jenna Lucius, Senior Administrative Analyst, Academic Personnel Services
Nguyen Trieu, Business Platform Systems Manager, IT Services
Paul Krueger, Technical Project Manager, IT Services 
Tehseen Lazzouni, Financial Analyst, Chemistry & Biochemistry
Tina Mata, Manager ITS/HDH Development, IT Services

The Lean Green Machine

Brian Parent, System Administrator, IT Services
Marie Jackson PhD, MBA, Director, Clinical Research Billing, Revenue Cycle
Prachi Raheja, Technical Project Manager, IT Services
Shane Moise, Student Life Coordinator, Jacobs School of Engineering
Simona Capsa, RMP Analyst, VCRMP Finance
Johanne Gnagne, Project Manager, Clinical Services and Financial Affairs, Health Sciences International

 Orange is the New Black

Diana Platero-Lopez, Director, Student Affairs, Economics
Harrison Watts, Programmer Analyst, IT Services
Jeno Bonetti, Change Management & Service Operations, IT Services
Katarina Tang, Sponsored Research Analyst, Office of Contract and Grant Administration (OCGA)
Janice Leung, Financial Analyst, Bioengineering 
Wade Blomgren, Information Systems Analyst, Educational Technology Services Group, IT Services

Blazing Blue Sky

Ashish Pandit, IT Architect, UCSD IT Services
Bryan Kehr, Assistant ITS Program Director, UCSD Library
Csilla Csori, Data Systems Architect, San Diego Supercomputer Center
Farah Rahman, HIM specialist/ 5S Coach, Health Information Management, Family Health Centers of San Diego
Jeannette Warren, Project Specialist, Capital Program Management
Sean Hlvac, UX Designer, Rady School of Management

 Black Ops

Adam Tilghman, Systems Analyst, IT Services
Carlos Lopez, Programmer Analyst, Associated Students
Gisela Schmidt, Response Team Coordinator, Office of Prevention Harassment/Discrimination
Kathy Whelan, Project Specialist, Capital Program Management (formerly Facilities Design & Construction)
Murray Keogh, Senior Analyst, Capacity Management, UC Health
Richie Cruz, Business Technical Support III, IT Services